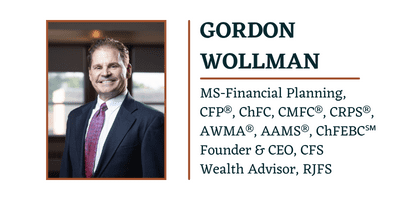 As I reflect on last year, I'm reminded of the saying, the only constant in life is change. We faced a global pandemic, volatile financial markets, political and social unrest, the Russian invasion of Ukraine, and the loss of Britain's familiar face of royalty just to name a few.
After such significant events, I want to thank you for placing your trust in the Cornerstone Team. We don't take the responsibility lightly. And, for those of you with whom we have an advisory relationship, we want to remind you of our fiduciary responsibility and commitment to you.
Advice from our advisors is conflict-free and is never related to the possibility of earning a potential commission. As fiduciary advisors, we don't offer products designed to generate unnecessary or excessive fees. Our advisors offer comprehensive financial planning and make investments that are consistent with your risk tolerance and goals.
We believe in full transparency and full disclosure – especially when it comes to fees. As independent fee-based financial advisors, we offer brokerage and advisory services through Raymond James Financial Services. That means that we have an open platform which gives you options to engage with us in the most cost-effective manner.
Different people have different needs and we've created an accessible model that allows us to serve you in a way that best suits you. Compensation works in one of the following ways:
For investment and portfolio management clients, we charge an annual percentage based on the amount of assets we're managing. The advisory fee comes out of your investment account automatically, which makes it simple, trackable, and transparent.
OR
For clients who don't utilize our investment management services, we have created a Fee for Advice Service platform where we work together to create, maintain, and review financial plans. Call our office for fees and more information regarding this platform.
We offer mostly fee-based planning. Simply put, we are on the same side of the table as you – we participate in the gains, and we participate in the losses. When you do well, we do well. Monthly statements detail your fees, so your standing is always clear.
We know you've worked hard for your money and our team of wealth advisors have a deep understanding of financial planning which allows us to give you the highest quality of service there is. We can't predict what will happen in the coming year, but we know we can plan. Thank you again for placing your trust in us. Don't hesitate to contact us if you have any questions.