2023 will mark 30 years in this business, so I have been through my share of market downturns.  And like you, I don't enjoy them either!  With my experience I have learned a lot of valuable lessons.
1. Downturns are only temporary:  
If history has shown me anything, it's that even the worst bear markets don't last forever.  No one knows for certain how long with downturn will last or how far stock prices might drop. 
Previous bear markets weren't easy, either. During the Great Recession, the S&P 500 fell around 57%. When the dot-com bubble burst, it dropped close to 50%. During the coronavirus crash, the market plummeted by around 33% in a matter of weeks.
Despite everything, though, the market eventually bounced back. No matter how severe this downturn becomes, things will get better.
2. I've seen this before: 
There are thoughtful, experienced economists and professional investors who can give you well-reasoned arguments why this bear market is different, why the economic problems are different and why this time things may get worse. But while some others might tell you, "This time is different," my message to you is, "I've seen this before."  I don't know if the current decline will fit into the bear markets past. But what I do know is that every bear period has eventually ended, and the market started back up again.
3. A better tomorrow: 
Over time, and in time, the financial markets have demonstrated a remarkable ability to anticipate a better tomorrow even when today's news feels awful. While no one can predict the future, and no two market declines are the same, we have been here before. We've learned how to survive and prosper when markets begin to recover.
4. Perfect timing is impossible: 
The fact that no one knows when a bear market will end is one reason it's a mistake to put off investing or pull money out of the market. Compounding the problem, stocks tend to surge at the start of a new bull market. So, by the time it's obvious that the bear market is over, a big chunk of the gains is already in the books.  
5. Market disturbances are a fact of life for investors: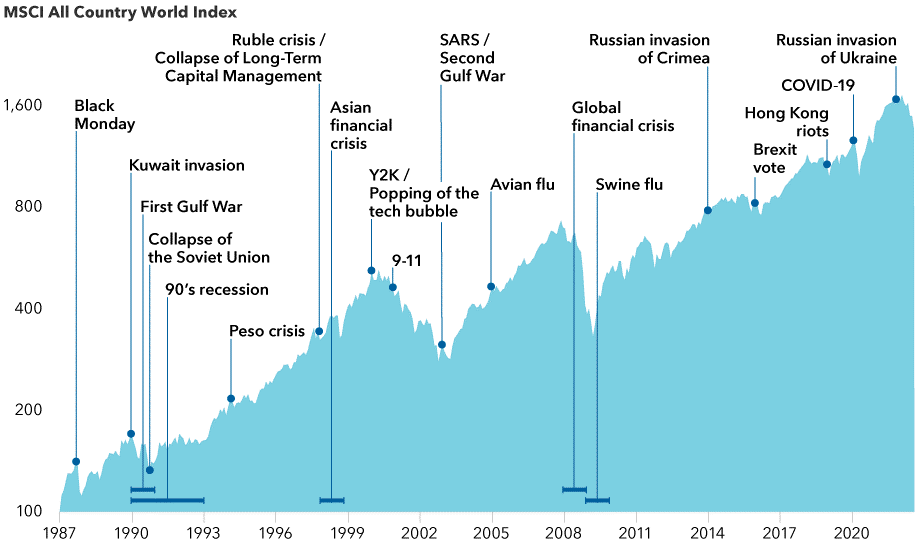 Sources: MSCI, RIMES. As of 6/30/22. Data is indexed to 100 on 1/1/87, based on the MSCI World Index from 1/1/87–12/31/87, the MSCI ACWI with gross returns from 1/1/88–12/31/00, and the MSCI ACWI with net returns thereafter. Shown on a logarithmic scale. Returns are in USD.
As long as I've been in this business, I've seen the market swing from excessive enthusiasm to extreme pessimism. Warren Buffett said it best: "Be fearful when others are greedy and greedy when others are fearful." Put another way, bear markets are an investor's friend, provided they remain calm, patient and focus on the long term.